Matty Bovan's 'Ribbons', Delia Derbyshire and The Horror Show!
NOW Gallery, Rio Cinema and Somerset House.
Matty Bovan's 'Ribbons' at NOW Gallery, Greenwich
A trip to Greenwich to the private view of fashion designer Matty' Bovan's 'Ribbons' at the NOW Gallery. The York-based designer's most recent S/S 23 collection in Milan backed by Dolce & Gabbana proved a hit with Bovan's penchant for explosive colour and textile rich layering. Somewhat prolific working from the family home studio in Yorkshire, Bovan tells me he was keen to do something new and freely accessible to the public. The multi-sensory exhibition, open until 5th March 2023, sees Bovan platforming craft using ribbons to create tall bold structures along with paintings and films. Shades of Derek Jarman are evident in Bovan's multi-faceted approach and emotional pull of paintings and films.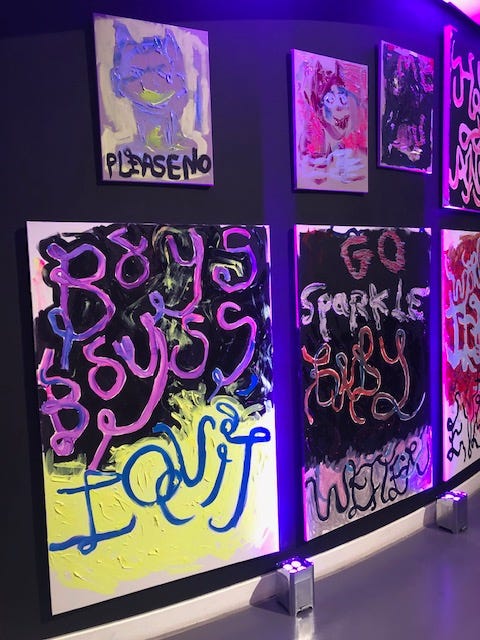 DJing the night is London's own club legend Princess Julia wearing one of Bovan's SS '23 looks which Matty enthusiastically informs me is the same one I illustrated during September's Milan Fashion Week. Julia continues to be a leading light in London's nightlife, something she has been doing for over 30 years and can be regularly seen hosting nights at The Glory on Sundays, so it makes sense that she is here providing the night's soundtrack consisting of Frankie Goes to Hollywood and other club classics.
Thanks for reading Gemma O'Brien - Drawing from Fashion's Labyrinth! Subscribe for free to receive new posts and support my work.
What casts further magic is the sense of bold colour, imposing ribbon-strewn structures, participatory stations where visitors can create their own ribbon pieces freely. During a cold season, London in winter, an unabating cost-of-living crisis and a general malaise about the environmental and commercial future of fashion, Bovan's exhibition proves that hope can be found if we are open to the joy of craft. Open until 5th March at NOW Gallery, Greenwich.
Delia Derbyshire - The Myths and Legendary Tapes
To the Rio Cinema on Kingsland Road, Dalston, to see the film about Radiophonic Workshop creator and electronic pioneer Delia Derbyshire in Caroline Catz' film Delia Derbyshire - The Myths and Legendary Tapes. Most know Delia as the electronic arranger of the Doctor Who theme based on Ron Grainer's original composition. The film goes some way to giving an insight into the personality of Delia, a Cambridge music graduate - first studying mathematics - from Coventry, as she gets a foothold in the male dominated world of the Workshop and wrestles with being somewhat 'other'. Cosey Fanni Tutti created the soundtrack to the film written, directed and featuring Catz herself and spoke about her role in the film, her new book 'Re-sisters' - The Lives and Recordings of Delia Derbyshire, Margery Kempe and Cosey Fanni Tutti' and the influence of Delia on her own work.
The Horror Show! A Twisted Tale of Modern Britain- Somerset House
A few weeks after the Halloween launch of The Horror Show! I made my way to the lower ground cavern on London's Embankment. The exhibition explores the underbelly of British culture since the souring turn of 60s free-love further expanding the meaning of 'horror' as a genre - one we have all lived in one way or another during our lifetimes.
The exhibition, co-curated by Iain Forsyth & Jane Pollard and Claire Catterall, is divided into three sections: Monster, Ghost and Witch and encompasses punk, clubland, secret societies, fashion, film, art and the occult from the late 60s to the present day. It's a smorgasbord of British sub-culture with an eerie soundtrack pervading the entire experience, starting with Bauhaus' 'Bella Lugosi's Dead' and ending with a sound installation by Gazelle Twin alongside Tai Shani's The Neon Hieroglyph (2021) sculpture. The three sections give structure to the idea of horror as a pervading theme through modern British life as Monster covers post-60s punk and post-punk fueled nihilism, Clockwork Orange film sketches, Dennis Morris punk photographic prints along with Derek Ridgers' club prints and my favourite, Judy Blame's headpiece from John Galliano's 1986 'Forgotten Innocents' show, installed above the Spitting Image puppet of Margaret Thatcher. My BA Fashion dissertation was about the effect of British satire from TV and broadsheet cartoons on Margaret Thatcher's public image, so I was taken aback to see this pairing which I can only think the late Judy Blame would relish. For readers unaware of Judy Blame, he was a highly creative stylist accessories designer who came to prominence during the 80s working with Ray Petri's 'Buffalo Boys' and contributed to i-D and The Face magazines. He used found objects, to create embellished hats, jewellery and clothing and collaborated with Neneh Cherry and fashion brands such as Dior as well as being part of the House of Beauty and Culture. What struck me about this pairing is that Spitting Image was really effective in the four-channel TV world of the 80s and early 90s and would struggle to lampoon today's political and entertainment figures since Tik-Tok and Instagram are used as today's mechanisms to engineer outrage usually with less creativity.
Ghost explores the hangover of punk rebellion and the downturn following the expired excitement surrounding 90s Brit bands and YBA's - the latter making money the new artform leaving younger artists wondering how they could follow in their wake whilst Mark E. Smith corresponds by letter to Rita Tait of the Arthur Machen Society. The millennial ennui post 90s cultural boom, 9/11 and 2008 financial crash sees a room of MTV outtakes, Ghostwatch and Derk Jarman's Blue. Death with a narrative permeates along with a drowned and life-less self-portrait sculpture of artist Jeremy Millar. Resolve and spiritual reclamation is to be sought in Witch, as a younger generation of creatives utilise the occult, tarot and magic to re-imagine a new future through textile creations, writings, film and ceramics to name a few.
It's an exhibition rich in detail and threaded together carefully despite the feeling of information overload - akin to reading a magazine cover to cover in two hours - yet one well worth immersing oneself in. Open until 19th February at Somerset House.
Thanks for reading Gemma O'Brien - Drawing from Fashion's Labyrinth! Subscribe for free to receive new posts and support my work.